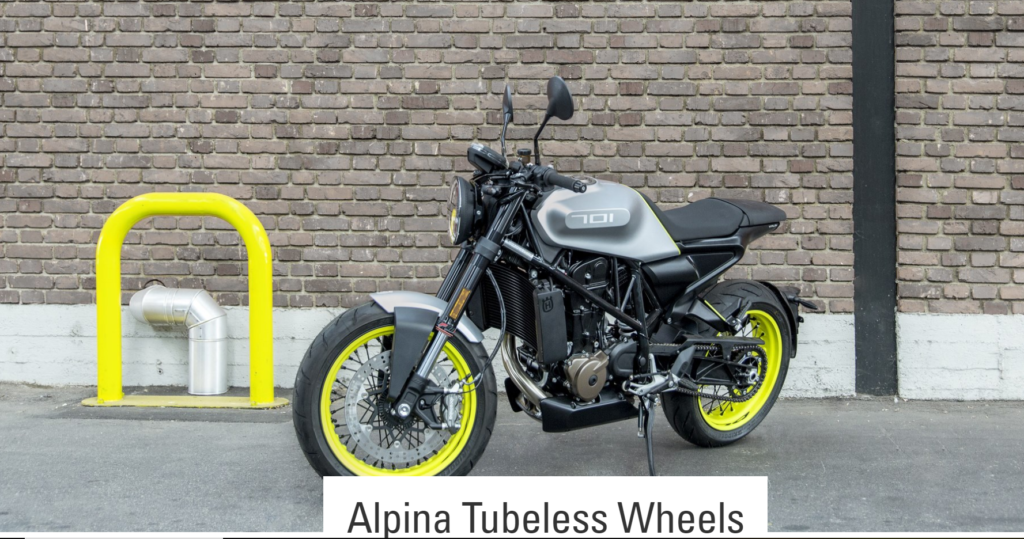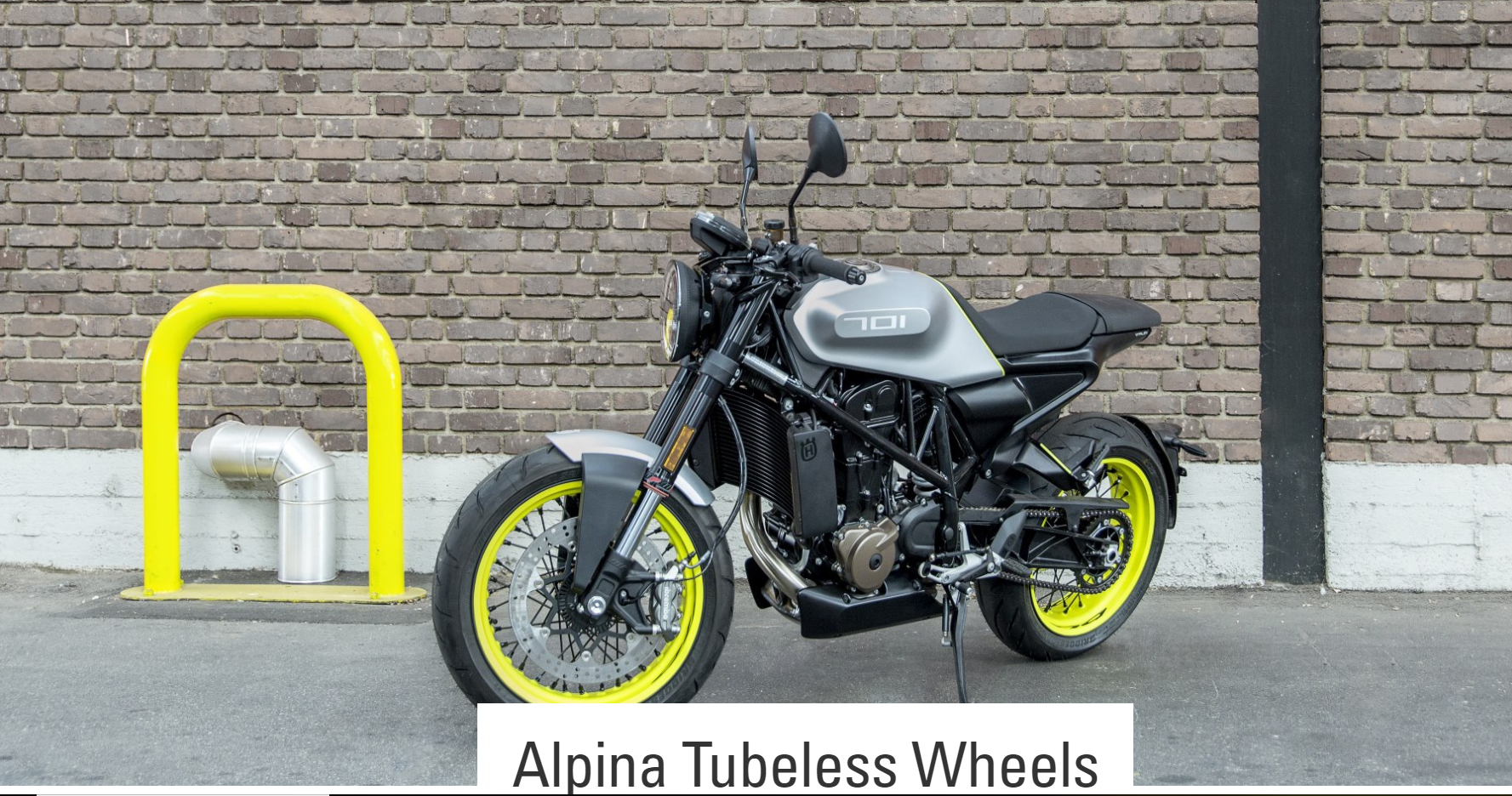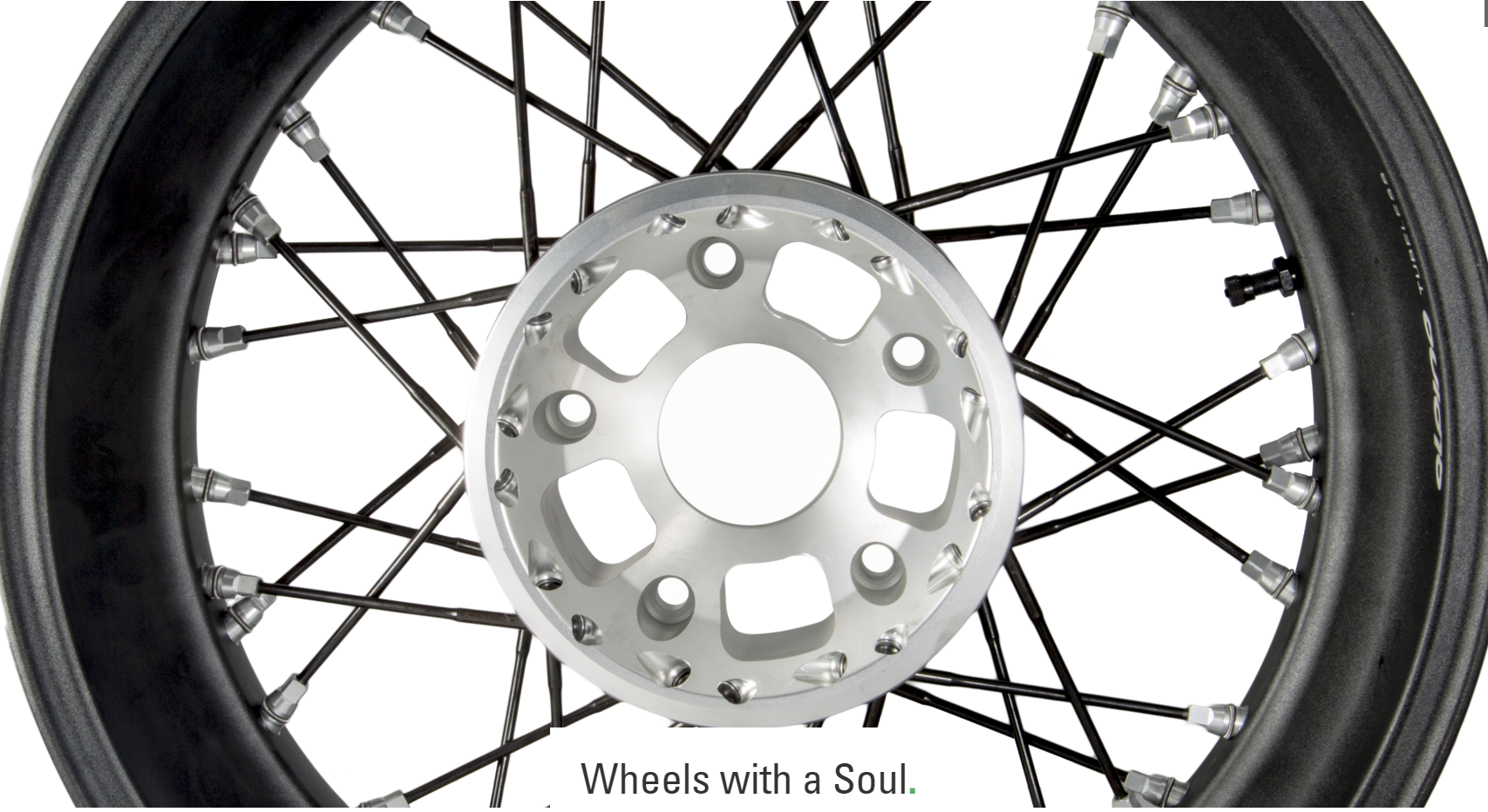 Motorcycles wheels have always been conceived as mere mechanical parts, "functional tools" with the only task of transmitting power generated by an engine. A secondary part in the economy of the motorcycle, often overshadowed by more "noble" components.
We want to give spoked wheels a soul, a strong character and identity, and make it an essential part in motorcycles' performances and design.
Our strength is a century of experience in the production of spokes and nipples, side by side with the world's greatest manufacturers of bicycles and motorcycles.
Two souls live within the same company: an industrial division – specialised in mass production of high-quality spokes and nipples – and the tubeless wheels division, an atelier where our craftmen create exclusive wheels, tailored on our customers needs.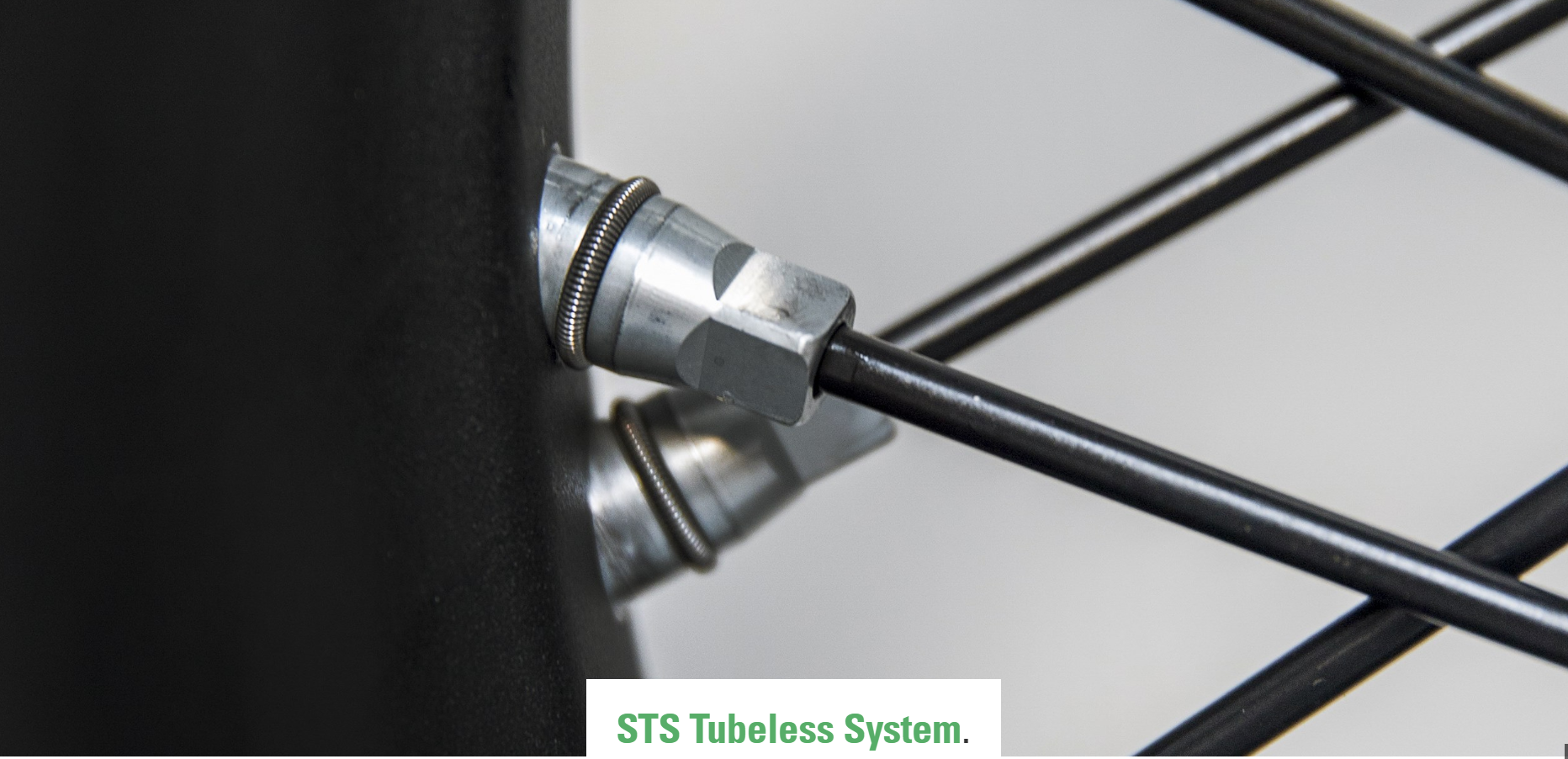 Safety.

Tubeless wheels prevent tyres from deflating immediately after punctures and are easier to be repaired.

Weight.

Save from 800g to 2kg with the removal of inner tubes.

Hump.

Our rims are provided with a security hump that prevents the tyre to come out from its position in case of puncture.

Tyre consumption.

Tubeless wheels ensure an increased durability of tyres.

Plug & Play

. Each wheel model is suitable with its corresponding motorcycle models, withotu further adaptations.
Why Tubeless?
A Tubeless wheel is a wheel without any inner tube: specific tubeless tyre are mounted directly on the rim, without any air chamber. There are many advantages connected to this system: weight saving, reduced tyre consumption, safety and riding performances.
Alpina's Standard Tubeless System.
STS stands for "Standard Tubeless System" because of its simple application on every rim, without any need of further adaptation. We use the standard wheel architecture designed by the manufacturer and we add our tubeless system: specific drilling angles together with our STS Nipples, the very heart of our technology..
STS Functioning.
Our STS nipples have O-Rings that are positioned inside the profile of the rim. This rubber ring works as a permanent seal, with an extremely durable resistance to temperatures and atmospheric agents. A Safety Clip is added in order to prevent the nipple from being ejected out of the rim in case of spoke breakages or severe punctures.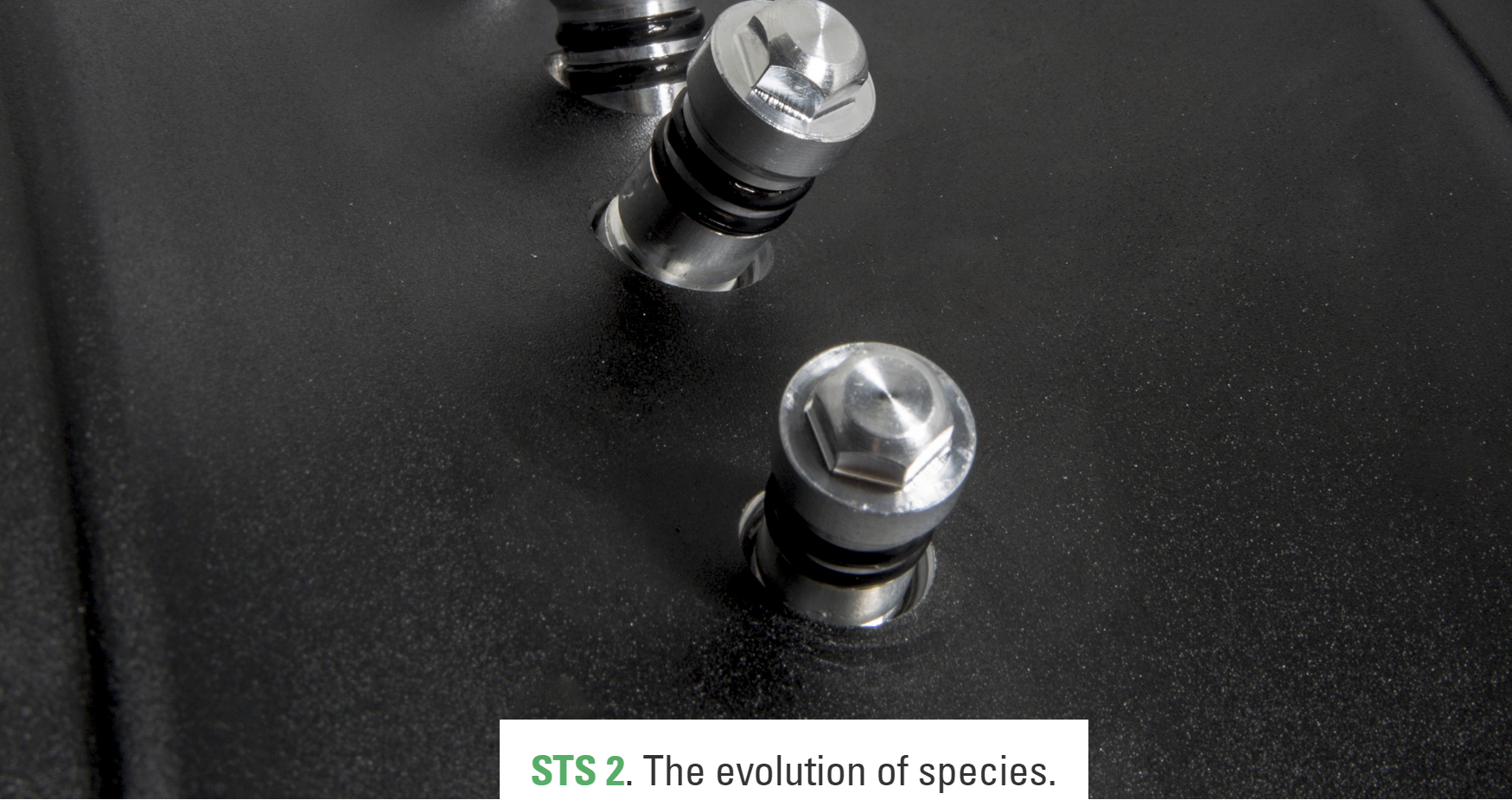 Forged.
The new generation of Alpina Tubeless wheels is equipped with forged rims instead of standard, extruded rims: produced starting from one, single piece of aluminium, without weldings and dimples (Weldless Technology), these products represent the best available technology in aluminium rim manufacturing.
Top performances.
Increased thickness in the center of the rim (up to 12mm) and perfect roundness. Incredible resistance even during the most extreme off-road activities, better handling and riding precision.
STS 2 Technology.
Double seal. STS 2 Nipples are an evolution of our standard tubeless system, equipped with a single O- Ring. The increased rim thickness of 12mm allows the use of a double O-Ring for a durable seal and a safer tubeless system.
Innovative design.
A rim without dimples and weldings, for an uncomparable aesthetical result and a clean, modern design.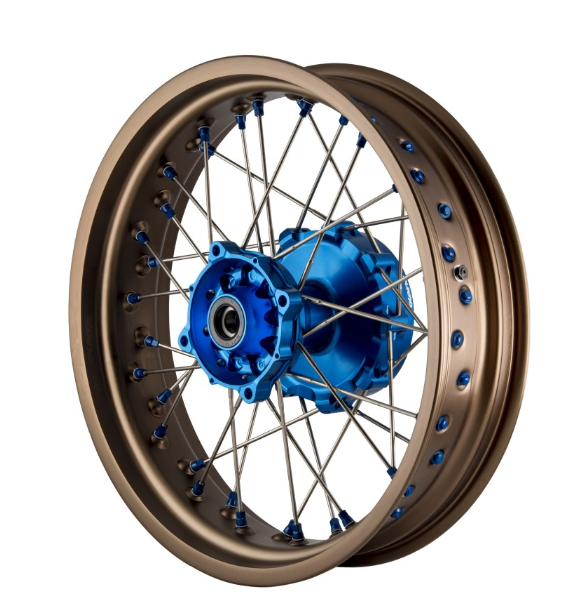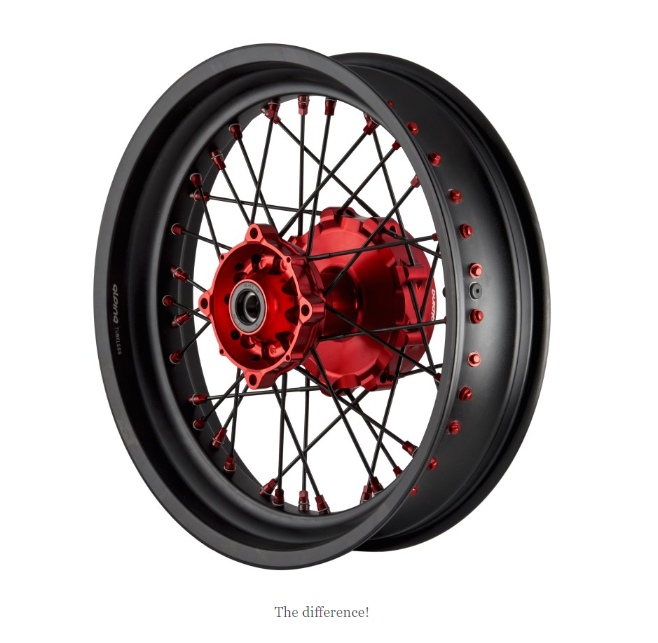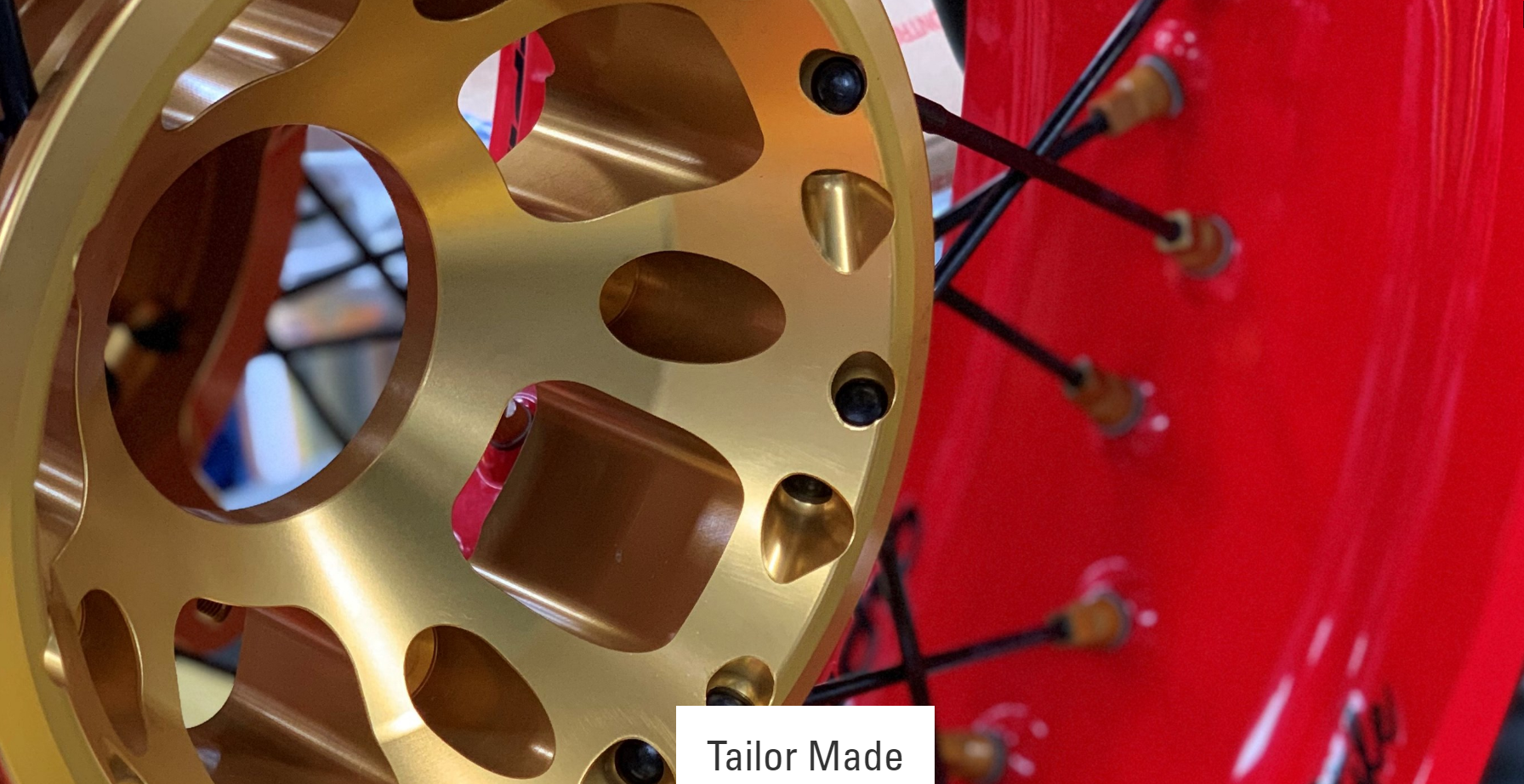 A new customisation experience.
Choose among three different configuration packs, each one with specific colour sets, finishes and customising solutions.
Because every wheel is different.



For more information on the colour options look   Here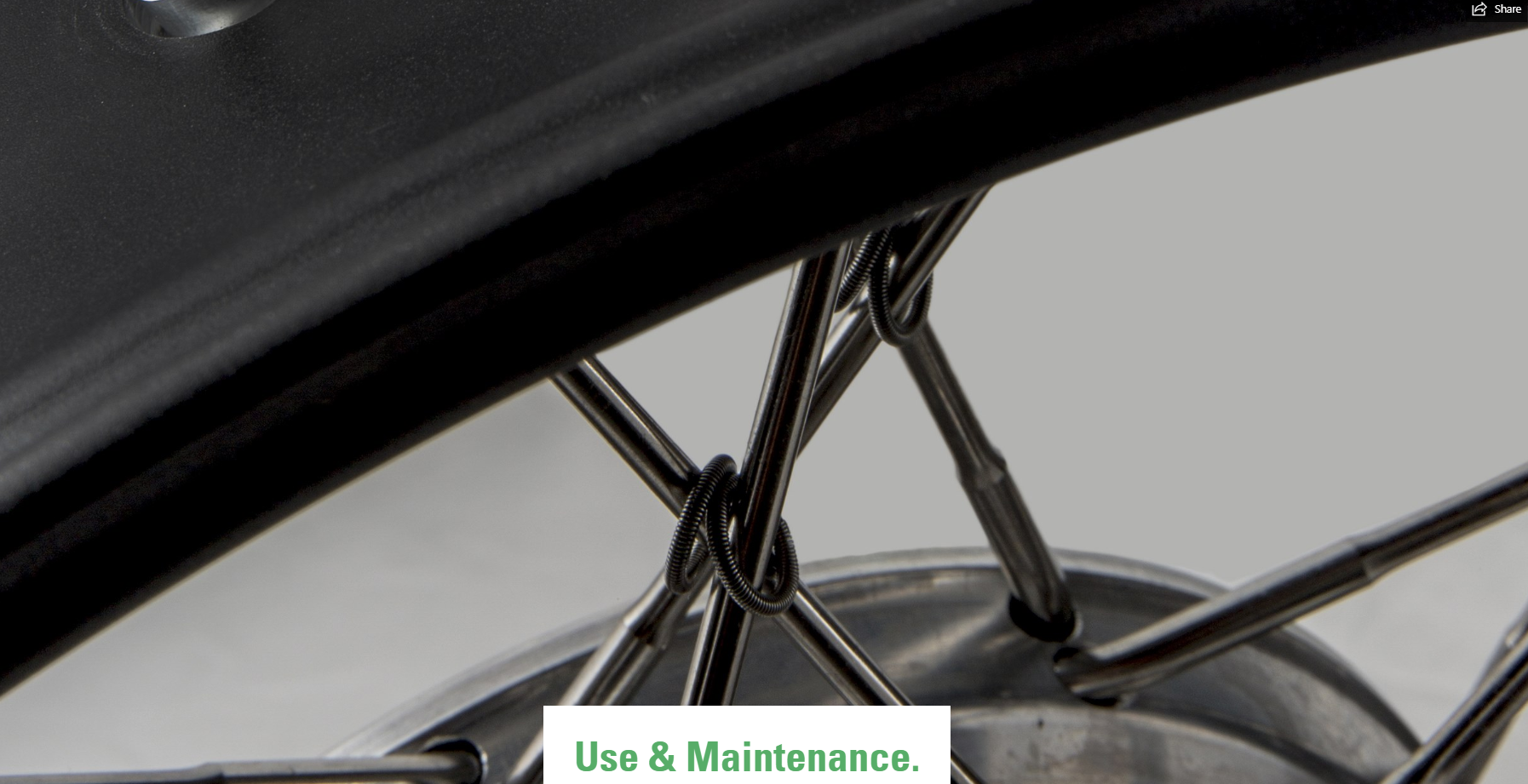 Plug & Play
Our philosophy is to provide wheels that are perfectly suitable on the chosen motorcycle models without any kind of adaptation or additional accessories. In this way you can save every original part, included stock wheels!
Spare Parts
Kits An easy and quick reparation kit to intervene on our wheels, wherever you are! Just follow the instructions contained on our User's Handbook .
Loosening is not an issue.
In our tubeless system, the O-Ring inside the rim profile prevents spokes from loosening. Less maintenance over time, just ride!
Safety Clips
.
STS Nipples are provided with Safety Clips: in case of spoke breakage, nipples are not ejected by the high pressure of the tyre. In this way, you can keep riding safely.